WORLDWIDE - CMN's INTERNATIONAL MINISTRY
SWAZILAND, AFRICA
Jerry and Karen Holte, Children's Cup Leadership Development Directors, left Iowa on Thanksgiving Day 2009 to begin full time missions with Children's Cup in Swaziland. The departure day was chosen as a statement of their thankfulness for the call and the opportunity to minister in a foreign land. Their roles include helping to develop and lead Global Leadership Academy, raising up national Christ-following leaders and church planters. They also lead the Church Based Discipleship program. Leadership development continues to be their heart, their calling and a great source of joy as they serve the Lord. The Holte's are blessed with four married children and six grandchildren.
The Holte's comments about CMN's mentoring program: "There are so many wonderful things about the Mentoring His Way. The one we want to highlight is its reproducible factor. It is evident that many are willing to mentor another if they are given the track to run on. The track in your material is clear and in simple enough terms that it is user friendly without compromise of basic Bible concepts. Thank you for so generously sharing your life altering approach to helping to train disciple makers in Swaziland."
Jerry Holte took Robert through the mentoring course and Robert went on to mentor 8 other guys. He now assists full time in the Leadership Development Department of Children's Cup in Swaziland.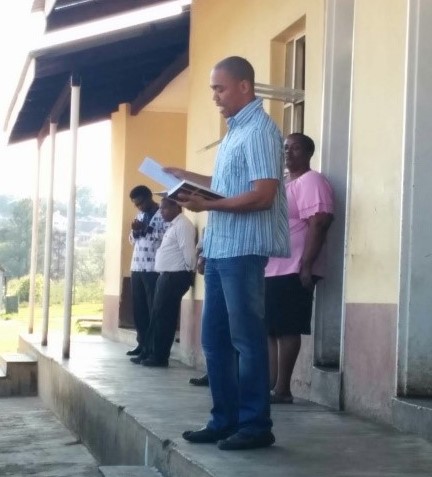 Darrell is one of Robert's mentee's and he followed the plan and is now taking two men through the books and plans to start taking two drug addicts through the course. Darrell comes from a drug background and has just recently been hired as a youth director at a local church because of his great growth and commitment to the Lord. For more information put the following link in your browser: https://childrenscup.org
"Beginning the Mentoring His Way program was the fulfillment of a promise and answered prayer. The simple way in which the material allowed my mentor and me to revisit the basics of our faith met me at a time I was very much like a broken dwelling. Through God's Grace, the program provided the scaffolding I needed to have my old rubble built anew, and correctly!" Elizabeth Mzungu, Kenyan planted in the soil of Swaziland
"I just want to say thank you for the Mentoring His Way modules that you have provided us with to be equipped. It has been a good life transforming experience since it just brought that real intimacy with God and thus strengthened my relationship with the Creator of heaven and earth. I was prompted to mentor three of my friends and one of them is in South Africa." Nomfundo
"I really benefited a lot from the books, Mentoring His Way. I received my assurance of eternal love and life through Christ. It made me to understand how much value I have. I've grown up with a low self-esteem and thoroughly speaking mentoring through these books has played a huge role in me overcoming that. I now know who I am in Christ and have confidence in myself. Since then I have made sure I ask the Holy Spirit to lead and guide me daily." Jubilee Mndzebele
"After this mentor-ship, I must say my life has changed positively and I am now able to impact my society in a better way. Most importantly I am now well versed that any problem I face in life I can overcome through the power that the Holy Spirit gave us. I look forward to mentoring others through Mentoring His Way and it will be an enjoyable experience for me because they are such a profoundly written series of books. I'm richer in Christ now." Nathi Gule aged 34 a resident of Mbabane, Swaziland. I am a Communications and Media Consultant.
KISII, KENYA, AFRICA
The other day I received a letter from a pastor friend who is planning to go on a mission trip. He has a strong passion for people all over the world to know Jesus and is excited to be used by God on this trip. He needs to raise $3,000 for his expenses. He will be traveling with a group of 5 or 6 others which means for the group to make this trip, they need to raise a total of $15,000 to $18,000 for a 1 week visit to another country. Because of our love for our pastor friend, Sarah and I were happy to send what we could to help.
I have been giving a lot of thought to the idea of mission trips for CMN. Many of the pastors I have trained or who want to be trained to disciple their people through one-on-one mentoring relationships, have asked me to come to their country to train them in person. But each time I evaluate the cost I realize how much more we could do with the money by using modern technology. We have discovered for CMN, there's a much less expensive way to travel to other countries through technology such as Skype or Zoom.
To give you an example: In 2014, I received a message through Facebook from Pastor Daniel in Kitale, Kenya. He was seeking someone to mentor him. I sent him a message asking if he had Skype capabilities. He said that he did not own a computer but, that there was a cyber café in Kitale. We set up a time to meet via Skype for 1 hour each week. At the first meeting, he asked if four of his pastor friends could join us. He said that it would take all of them to have enough money to pay for an hour of computer time. I agreed and we all met each week for a year going through the three-volume series Mentoring His Way. CMN sent them a box of our books and some Bibles. They trained 50 other pastors how to use our materials to disciple the people through one-on-one mentoring relationships.
Over the years, our mentoring ministry has grown to hundreds throughout northwest Kenya because of their efforts. Pastor Daniel is the one in the red jacket in the picture. Unfortunately, the cyber café has since shut down and we no longer have a way to meet face-to-face. Using the technology isn't always available, but when it is, it's very effective!
All the above has been accomplished without leaving home or spending more than $2,000. In the July newsletter, I asked for your help in raising $1,000 so that I could send them and other locations low-cost laptops. I want to thank those who responded.
THE COMMITTMENT TO MENTOR TRAINING IN KISII, KENYA, AFRICA
CMN COLLEGE MISSION / /
To bring more people to the way and teachings of Jesus Christ through the mentoring process, we believe, will change Kenya, Africa as a whole and the entire nation.
OUR VISION / /
Changing the nation to Christ starts with one.
OUR PLAN //
We intend to have a theological college where people of God can be mentored and graduate to mentor others.

OUR OBJECTIVES //
For each graduate to mentor two each year and to teach their mentees to do the same."
For the first time CMN Kisii, Kenya a class of women (pictured below) has graduated after completing the Mentoring His Way three book series. CMN previously sent Mentoring His Way books for the men but these women had to borrow their husbands books for their study.
We sent the women their own books to use as they go on to mentor other women.
The CMN College in Kenya also needs more Bibles.
Please prayerfully consider financially supporting the global reach of Christian Mentors Network by helping this growing International ministry project.
This is the December 2017 CMN graduating class holding their Certificates of Completion for having gone through the Mentoring His Way three book series on discipleship.